Dear Harmonic Supporters,
Singing – good for heart and soul! – This is how the whole choir feels about singing, whether performing at the Royal Concert Hall with nearly 200 voices or gathering in small groups to experience the sheer joy of singing.
As we begin the 166th Season, the Choir have recommenced live rehearsals under the guidance of our Music Director, Richard Laing and we have already welcomed some prospective members to our rehearsals. We are easing our voices back to full strength and working towards an event on the 13 November at the Albert Hall. We will sing some of the pieces from our previously cancelled Gloria! Majestic Music for Choir and Brass.
We sincerely hope to hold our Come & Sing event in February 2022. We know that many Friends of Harmonic and other supporters look forward to this very special annual event and we will update you as soon as we have more information. The Spring Fantasia concert which was originally planned for spring 2021 will now take place on 19 March 2022. Please keep an eye on our website listings for further details of when tickets are available.
We usually perform Handel's Messiah at the Royal Concert Hall every year but instead we arranged our first ever virtual Messiah in December 2020. Do take a look at our Gallery of Singers at the event.
Please continue to keep up to date by viewing the website from time to time, or follow us on social media:

@Notts_Harmonic

Nottingham Harmonic Choir

@Notts_Harmonic
We hope to see you in our audience again at the earliest opportunity.
With all our best wishes.
Joanne Browne
Chair of the General Committee
---
Professor John Morehen
It is with great sadness that we announce the recent death of our President, Professor John Morehen. He took up the position of President in 2008 and, with his great musical expertise and approachable manner, brought so much to the role. John skilfully performed at the piano and organ at our Family Carol Concerts and also gladly accompanied us when needed at rehearsals on many occasions. He presided at our Annual General Meetings and one member recently commented 'it says something that I enjoyed the AGMs under his guidance! No mere figurehead, I always appreciated the time he gave us as accompanist, attending our concerts and the friendly words to us all.'
You can read the full Obituary (published by The Telegraph). Also, read more about John on his webpage: http://www.morehen.com/
---
Welcome
Welcome to Nottingham Harmonic Choir
The Choir has a long and rich history as a leading choral centre in Nottingham and the East Midlands. We perform in various venues, including Nottingham's Royal Concert Hall, Albert Hall and the Minster at Southwell.
Handel's Messiah, Dec 19
'Vivid storytelling'
'stylish musicianship….technically assured'
'exciting…magnificent'
Read the full review
Mozart Requiem, November 2019
The choir was 'outstandingly prepared' and achieved 'thrillingly dramatic effects' with 'narrative urgency, crisp diction, passion and precision'
'Sinners amongst the audience must surely have considered repentance.'
Read the full review
Haydn The Creation, March 2019
'A fine performance. The choir was faultless.'
Come & Sing, February 2019
'Everyone was so friendly and helpful, especially the choir volunteers who put in a lot of effort (especially the cakes!) to make the day an enjoyable one. I felt I learned a lot from the conductor and was amazed at the progress we made in just a few hours'
Armistice Centenary Concert
'terrifyingly impressive… a musical triumph…. heart meltingly moving'
Read the full review
Poulenc Gloria with The Hallé, May 18
'the music was in their bloodstream'
'high energy and rock-solid accuracy'
Read the full review
Bach St Matthew Passion Southwell Minster, March 18
'Powerful and dramatic'
Performed with 'exquisite tone and quality'
For the full review and other concerts, see the concert page.
Feedback Please!
We would greatly appreciate your feedback if you have been to one (or more!) or our concerts. You will find our quick and easy feedback form on our feedback page.
New Members Welcome
Please see our Join Us page for details.
Help to support the choir, at no cost to yourself, whenever you shop on-line, by using EasyFundraising.
We can be found on social media… please Subscribe on Twitter and Follow us on Facebook. If you see a post on Facebook you like (such as a notice for a future concert) please share the post rather than simply liking it – this will make sure your friends and contacts see our posts.
To keep up to date with our concert programme, please sign up for our occasional newsletters – you can unsubscribe at any time and we promise not to send spam!

Forthcoming Concert
Gloria!
Rutter Gloria
Parry I Was Glad
Ireland Vexilla Regis
Bruckner Ecce Sacerdos, Aequali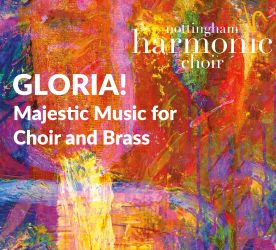 SATURDAY 13 NOVEMBER
Nottingham Harmonic Choir
Conductor Richard Laing
Organ Simon Hogan

| | |
| --- | --- |
| Celebrating 50 years of friendship between our cities! | |
Music Sales
We are pleased to announce the availability of our Music CD "The Joys of Christmas" as a digital download. Please use the "Music Download" link in the above menu or
click here
to purchase and enjoy our beautiful Christmas music.
Music Scores for Sale
We have a large amount of music for sale. Please
click here
to download the list, and use the
Contact us form
to make any enquiries.