Nottm Classics Mozart Requiem
Sibelius Fourth Symphony
Mozart Requiem
Friday 1st November 2019 7:30PM
Nottingham Harmonic Choir
Sinfonia Viva
Conductor Frank Zielhorst
After completing his Fourth Symphony in 1911, Sibelius wrote in his diary that "it calls for much courage to look at life straight in the eye." Hearing this stark antidote to the opulent scores of his contemporaries, Mahler and Richard Strauss, reminds us that Sibelius's symphony was born out of personal crisis. Diagnosis and treatment for throat cancer a few years earlier had led him to search deeply within himself, evident throughout this glowering, sometimes inscrutable soundscape, but it's also a richly rewarding one, with glimpses of light and, ultimately, a steely vision of endurance.

Mozart's Requiem also, unsurprisingly, inhabits dark musical territory. Written just a few weeks before his death, in response to a mysterious commission from an unknown patron, the Requiem was for many years shrouded in mystery and Mozart's untimely end meant that much of the work had to be finished by his pupil Franz Süssmayr. What we do know is that the Requiem remains one of the most compelling of choral experiences, Mozart's sublimely expressive choral and solo vocal lines matched by gripping orchestral urgency.

This is a concert in the Nottingham Classics series.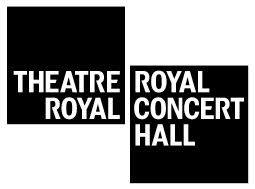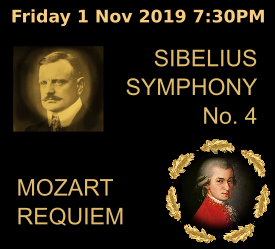 Friday 1st November 2019 7:30PM
Venue:
Royal Concert Hall, Nottingham
Reviews
Review by: William Ruff
Review title: Orchestral finesse combines with choral precision 2 Nov 2019
No one could accuse Sinfonia Viva of lacking range or ambition.  On Friday night they started by taking their audience into a strange, dark landscape (with no map, no compass, no satnav) but ended by soaring out of this world altogether, revealing to them the radiant brightness of Heaven itself.

Orchestral colour was such an important feature of this concert that it wouldn't have been surprising to see conductor Frank Zielhorst with a baton in one hand and a paint palette in the other.  The care with which he mixed his colours to achieve exactly the right shades and nuances was obvious from the opening bars of Sibelius' 4th Symphony.
Sibelius was gifted with synesthesia, so he actually experienced sound as colour. And he was a deeply troubled man when he wrote this piece: alcoholic, throat tumour, in debt etc.  So it's bleak, dark and seems to emerge from a black hole of introspection.  The images it conjures up are of bare branches gaunt against a threatening sky.
That said, it is one of the composer's most emotionally shattering works and one of his most starkly beautiful.  But its effect is not easily achieved and it was down to Frank Zielhorst's meticulous preparation of the score's fine detail that this performance packed so powerful a punch.  Textures were always crystal-clear and ensemble as tight as anything you would expect from chamber musicians.  There was also much fine solo playing, notably from principal cellist Deirdre Bencsik.

Dark colours also abounded in Mozart's Requiem for which the orchestra was joined by the Nottingham Harmonic Choir and soloists Elizabeth Karani, Claire Barnett-Jones, Konu Kim and David Ireland.  It was clear from the outset that the choir had been outstandingly prepared by their Director Richard Laing.  Much of the music reminds us of Mozart the opera composer, so it needs narrative urgency, crisp diction and attention to the minutest instructions in the score. The fact that the Harmonic Choir managed all this accounts for the thrillingly dramatic effects they achieved.  Such was the fierceness of their 'Dies Irae' and 'Confutatis maledictis' that even the most enthusiastic sinners amongst the audience must surely have considered repentance.
There was much to enjoy from the soloists, although there were moments when ensemble wasn't perfect and when it would have been good to see them free themselves more often from their scores.

Symphony and Requiem shed both light (and darkness) on each other, creating a programme that was far more than the sum of its parts.  There was a blend of power, gravitas and close attention to detail as Sinfonia Viva's stylistic finesse joined forces with the Harmonic Choir's passion and precision.  It all made for a compelling experience.
 
Sinfonia Viva conducted by Frank Zielhorst
 
Nottingham Harmonic Choir (Director of Music Richard Laing)

Elizabeth Karani, soprano
Claire Barnett-Jones, mezzo-soprano
Konu Kim, tenor
David Ireland, bass