Strauss and Brahms
Strauss Four Last Songs
Brahms A German Requiem
Saturday 11th November 2017 7:30PM
Nottingham Harmonic Choir
Orchestra da Camera
Conductor Richard Laing
Soprano April Fredrick
Baritone Gary Griffiths
There can be few more poignant and moving expressions of love and compassion than these two great masterworks of German Romanticism. Brahms' Requiem was written to comfort those left behind, rather than concerning itself with the destinations of the departed, recognising and even embracing grief but simultaneously providing a radiantly positive message of consolation.

Strauss' final masterpiece, too, is suffused with a sense of peace at the close of life; these four songs are surely among the most sublime of all that great composer's work, written in the last great creative flowering of Strauss' extraordinary life.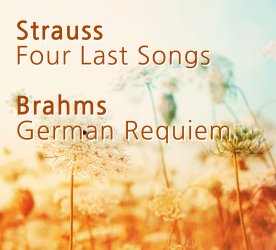 Saturday 11th November 2017 7:30PM
Venue:
Albert Hall, Nottingham
Reviews
Review by: William Ruff, Nottingham Evening Post
Review title: An enriching, uplifting concert
Anyone who craves power should train as a choral conductor rather than seek world domination. The Harmonic's Richard Laing ensured that his forces were responsive to every gesture, unleashing tsunamis of sound at one moment, painting pictures of utter stillness at another.

The opening movement of Brahms' German Requiem assured the audience that they were in safe hands. The opening crescendos made the music blossom, the ebb and flow mirroring the words: mourning and comforting, tears and joy. Dynamics were carefully managed, the whole choir responding with impressive unanimity.

The performance abounded in tingle-factor, its darkness shot through with bright flashes of light. The second movement ('All people are like grass') was taken at just the right speed to convey awe rather than fear. The fortissimo repetitions of the opening theme had a thrilling, epic intensity. The full ecstatic splendour of the choir was also unleashed when declaring victory over death in the 6 movement.

The soloists (soprano April Fredrick and baritone Gary Griffiths) were of like mind, blending power and gravitas with stylistic finesse and a sense of drama. The Orchestra da Camera was highly responsive to the dark-hued sonorities of the score.

April Fredrick was also impressive in Richard Strauss's Four Last Songs . Orchestral song cycles are tricky things to bring off in live performance when balance can be difficult. Richard Laing handled dynamics sensitively, supporting and illuminating the voice. April Fredrick sang luminously, soaring above the gorgeous textures, dealing effortlessly the long phrases which give this work its irresistible power.

This was a concert in which the marriage of words and music was a vital component. The care with which words of sorrow and hope (so appropriate to Armistice Day) were articulated throughout, by both choir and soloists, was yet another ingredient in this enriching, uplifting concert.