Spring Fantasia
Vaughan Williams Five Mystical Songs
Gjeilo Sunrise Mass
McDowall Ave Maris Stella
Holst Hymn of Jesus
Saturday 25th March 2023 7:30PM
Nottingham Harmonic Choir
Orchestra da Camera
Conductor Richard Laing
Bass-baritone James Oldfield
For this Concert we're partnering two classics of the twentieth century with a pair of exciting compositions from the twenty-first. Vaughan Williams' Five Mystical Songs are well-known, and justly appreciated for their extraordinary contrast and atmosphere. The stunning Hymn of Jesus from Holst is much less frequently performed, partly because it is fiendishly difficult for the choir, which splits into 14 different parts! But with this complexity comes an astonishing palette of colours and textures, and a harmonic invention which makes for an incredibly dramatic work. The more modern pieces in the programme are Cecilia McDowall's highly appealing Ave Maris Stella, and Ola Gjeilo's Sunrise Mass, quickly establishing its place as one of the most popular choral works of our time.

The choir will be joined by distinguished bass-baritone James Oldfield and our good friends the Orchestra da Camera. This promises to be an exciting and moving concert.
Approximate length of concert: 1 hour 50 minutes including interval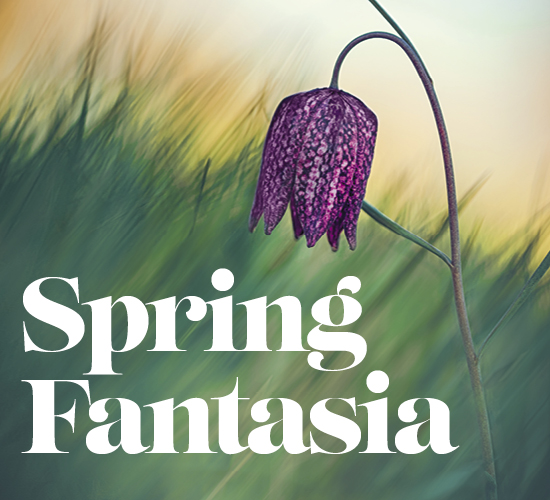 Saturday 25th March 2023 7:30PM
Venue:
Albert Hall, Nottingham
Reviews
Review by: David Dunford
Review title: Spring Fantasia - March 2023
Planning a concert with several contrasting pieces is not easy; do you look for a consistent theme, or a progression? If the latter, should it be chronological or move from one mood to another – a popular choice being from darkness into light? The Harmonic Choir's Spring Concert chose a different pattern, beginning with the mostly calm mood of Cecilia McDowall's Ave Maris Stella and culminating with the affirmation of Vaughan Williams' Five Mystical Songs.

But this is not to do justice to the nuances of any of the works played: McDowall's work has a tempestuous central section which sets Psalm 106's evocation of the dangers faced by "they that go down to the sea in ships" and there are many contemplative moments in Vaughan Williams' settings of George Herbert's poems. Between these came Ola Gjeilo's Sunrise Mass for double choir with its music portraying a spiritual journey from Heaven to Earth and Holst's Hymn of Jesus whose complex dance inspired rhythms were recognised as a completely new approach to liturgical music at its first performance, just over a hundred years ago.

To capture all this and yet make sense of the range of styles and moods in a single concert was a formidable challenge, yet one that the Choir met with great assurance. Hushed, meditative moments were delivered with exemplary breath control and meticulous phrasing (and there was the significant bonus of Eleanor Shaw's bright tones and pin-point accuracy in the McDowall) while the more complex rhythms and textures of the Holst were tackled with almost complete assurance. It's a fiendishly difficult piece - even professional choirs have come to grief in it - and the acoustics of the Albert Hall, with the organ splitting the choir in two, adds to its problems, but Richard Laing's characteristically clear and enthusiastic conducting averted the dangers of one or two potentially rocky moments.

James Oldfield was the bass-baritone soloist in the Five Mystical Songs. He captured the rapt, lyrical tones of the quieter songs beautifully, "Love" being a particular highlight. The strings of the Orchestra da Camera supplied the accompaniment; like the choir they were adept at conveying the range of feeling with a warmth of tone that suggested a larger group in the more extrovert numbers. In the second half of the concert, they were supplemented by a piano which supplied the missing brass and wind parts; while it was a pity not to have the original orchestrations, this in no way detracted from the impact of a very satisfying concert – one that was fully appreciated by the audience, whose enthusiasm went a long way towards compensating for their relatively small numbers.