Britten War Requiem
Benjamin Britten War Requiem
Vaughan Williams The Lark Ascending
Sunday 4th November 2018 3:00PM
Nottingham Harmonic Choir
Orchestra da Camera
Conductor Richard Laing
Soprano Rachel Nicholls
Tenor Daniel Norman
Baritone Benedict Nelson
Violin Braimah Kanneh-Mason
Choir Southwell Minster Girls' Choir
Organ Simon Hogan
To commemorate the end of the First World War, we present two contrasting and poignant works. The momentous War Requiem, the most profound statement of Britten's pacifist convictions. With vocal lines reflecting the anguish of war, and orchestrally created sounds of firing guns and cannon, the tension is palpable. Contrast this with the clarity and beauty of Vaughan Williams' Lark Ascending, written as the war began, evoking the sense of freedom for which millions gave their lives.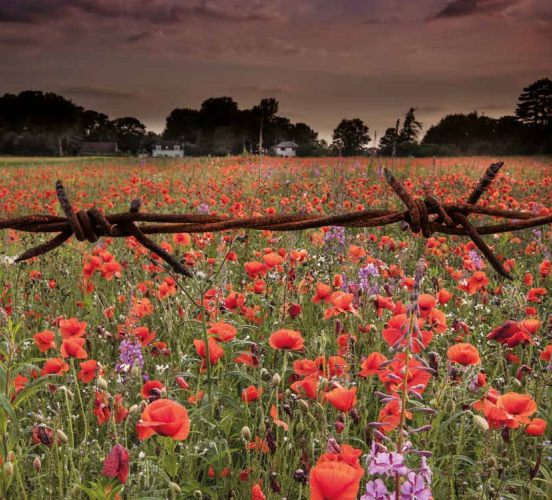 Sunday 4th November 2018 3:00PM
Venue:
Royal Concert Hall, Nottingham
Reviews
Review by: William Ruff
Review title: Armistice Centenary Concert 4th November 2018
The Harmonic Choir's 1918 Armistice Centenary Concert was both a musical triumph and a civic occasion of which Nottingham should be proud.  At its heart was a deeply moving performance of Britten's War Requiem - but there was much more, including Braimah Kanneh-Mason's serene playing of Vaughan Williams' The Lark Ascending and (on Albert Ball's violin and with his sister Jeneba) Dvorák's charming Humoresque.  The Royal British Legion also took part, parading their standards; and Col. David Sneath paid tribute to Albert Ball, reminding the audience of both his airborne heroism and his love of music.

The War Requiem requires not only huge forces but makes strenuous demands on all its musicians.  Conductor Richard Laing not only directed with insight and energy but also proved himself to be a master of coordination. The Harmonic Choir and the Orchestra da Camera were at the top of their form throughout.  And they were joined by the Girl Choristers of Southwell Minster, their vocal purity a reminder of lost innocence.

The Harmonic Choir was overwhelmingly, terrifyingly impressive at the beginning of the Dies Irae and most heart-meltingly moving when barely audible at its close.  And the clear articulation of the words was always thrilling to hear, whether impassioned or calmly imploring.

By setting Wilfred Owen's poems alongside portions of the Requiem Mass, Britten created a work which veers from prayers for eternal rest to the horrors of the battlefield, thereby questioning the certitude enshrined in the ancient Latin text.  Tenor Daniel Norman and Baritone Benedict Nelson used all their operatic experience to fuse words and music so dramatically.  Together with soprano Rachel Nicholls they brought both power and subtle understanding to their roles.

The final 'Amen' fading into the audience's prolonged silence was eloquent testimony to the power of this searingly memorable performance.