Nottingham Classics May 2017
Rossini Overture: William Tell
Poulenc Gloria
Puccini Intermezzo from Manon Lescaut
Saint-Saëns Symphony No. 3 'Organ'
Saturday 5th May 2018 7:30PM
Nottingham Harmonic Choir
The Hallé
Conductor Jonathon Heyward
Soprano Elin Manahan-Thomas
Organ Jonathan Scott
Rossini's last opera may be rarely performed these days but it's nevertheless achieved lasting fame through its famous Overture, complete with the 'Lone Ranger' gallop. It sets the scene for this Franco-Italian programme, in which the intermezzo from Puccini's Manon Lescaut, provides a tragic interlude between Poulenc's Gloria and Saint-Saëns' 'Organ' Symphony. Poulenc embodied the disdain for Germanic formality and French impressionism of the group of young composers known as 'Les Six', and his Gloria of 1959 is a fine example of his direct style. He mixes Stravinskian angularity with sensuous lyricism to gleeful effect. Saint-Saëns' most popular symphony has more solemnity, but there are thrills too, as a pair of rapid-firing pianists and a mighty organ raise the roof in the spine-tingling finale.

Free pre-concert talk, 6.30pm in the auditorium: Richard Laing, Music Director of Nottingham Harmonic Choir, discusses Poulenc's Gloria.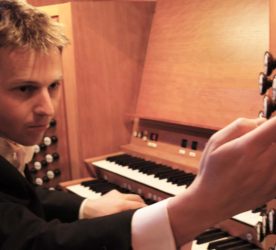 Saturday 5th May 2018 7:30PM
Venue:
Royal Concert Hall, Nottingham
Reviews
Review by: William Ruff
Review title: 8 May 2018 Hallé and Nottingham Harmonic Choir at the Royal Concert Hall
The score was France 2 Italy 2 at the Royal Concert Hall on Saturday night. And there were plenty of spectacular performances from a line-up of star players. Italy fielded two of its operatic heavyweights. France countered with a choral classic and a symphony of epic proportions.

Rossini kicked off with his William Tell Overture. Everyone knows the famous Lone Ranger bit at the end - but there was some lovely solo playing beforehand, especially the opening cello quintet and later the solo flute and oboe. Young American conductor Jonathon Heyward clearly relished the final Galop - but kept it all on a tight rein: this is music which needs disciplined precision if it is to achieve its full effect.

The Nottingham Harmonic Choir joined the orchestra for Poulenc's Gloria. Whatever the mood - spiritual or wildly jazzy - it's a piece which needs high energy and rock-solid accuracy to thrill as intended. The Harmonic was on splendid form, fearless in some tricky entries, confident that the music was in their bloodstream.
The clear enunciation of the words also played a significant part: they may have been in Latin but there was no doubting the conviction behind them. Soprano Elin Manahan Thomas was radiant in the more reflective sections, her vocal colouring an integral part of a moving performance.

In the second half came The Intermezzo from Puccini's Manon Lescaut, less than five minutes of music but packing so much love and anguish into its short compass. Then Saint-Saens' Organ Symphony brought the evening to one of those thunderous conclusions which make you check for cracks in the RCH masonry. Jonathan Scott was the solo organist, beautifully balanced with the orchestra in the sumptuous slow movement and playing a leading part in the thrilling sonic spectacle which brought the concert to an end.