Messiah
Handel Messiah (complete)
Saturday 7th December 2019 7:00PM
Nottingham Harmonic Choir
Orchestra da Camera
Conductor Richard Laing
Soprano Alexandra Kidgell
Mezzo-soprano Diana Moore
Tenor Mark Milhofer
Baritone Geoff Williams​​​​
Continuo Michael Overbury
The annual performance of Messiah at the Royal Concert Hall has become an unmissable fixture in the Christmas calendar. From the jubilant "Hallelujah" chorus, to the exquisite aria "I know that my Redeemer liveth", Messiah is an evocative setting of the biblical account of the birth, life and death of Christ. Handel's mastery of composition for solo voices, choir and orchestra culminates in a work full of superb arias and thrilling choruses, well-loved by audiences for almost three centuries.

Start your Christmas season with an evening of inspirational music. Handel's magnificent oratorio Messiah tells the story of Jesus' birth, life, death and resurrection, through many narrative and explanatory extracts from the Bible. This dramatic work features several of the greatest arias and choruses ever written.

This concert comes at the start of Advent, when we are all finally becoming aware that it really isn't long until Christmas, even though the shops have been anticipating it for months. Come and have an evening to escape from the bustle and let Handel's glorious music wash over you and renew you.

Although Messiah is the work by which most people in the world know Handel, it is almost a misfit in his output. He was not generally a religious composer and was not employed as a church musician, but rather wrote operas and music for royal occasions. His oratorios appear to be simply operas with religious themes. At the time they were written in England, they were not allowed to be staged nor acted. They could only be performed in a church, not in a theatre.

Handel's operatic techniques are apparent in Messiah. The choir plays parts ranging from a vituperative mob hurling insults round the Cross to a choir of Angels singing of Jesus' birth and praising Him in Heaven.

Many of the soloists' arias are familiar and well-loved, but they make even more impact in the context of the whole work.

If you have never heard the whole of Messiah before, or have only heard versions which are heavily cut, where there is no sense of continuity, come and be prepared for a totally different, thrilling, emotional experience!
Approximate length of concert: 2hr 30mins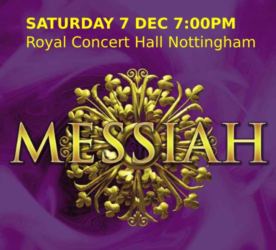 Saturday 7th December 2019 7:00PM
Venue:
Royal Concert Hall, Nottingham
Reviews
Review by: William Ruff, ReviewsGate
Review title: Nottingham Harmonic Choir, Royal Concert Hall, Nottingham, 5*****, December
Vivid storytelling combines with stylish musicianship in this new-minted Messiah

Handel's Messiah is 277 years old. It is one of the pillars of British musical life and must have been performed more often and by more people than any other work. How can performers today recapture the buzz at the first performance in Dublin when the crowds were so keen to hear it that gentlemen were told to leave their swords at home and ladies to remove the hoops from their skirts – so that more room could be made for all those wanting a ticket?

The Nottingham Harmonic Choir knows the answer to that question. The secret is in the storytelling. This Messiah didn't only feel new, it felt like The News, so urgently were the biblical texts delivered to the audience.

So how did they do it? Tenor soloist Mark Milhofer set the tone from the outset. He held the audience with his glittering eye and infused each word with meaning whilst giving a virtuoso display of stylishly embellished singing. And the other three soloists followed suit, only sparingly consulting their scores, focusing instead on reaching out to the audience, involving them in the narrative, making them hear the familiar words as if for the first time, injecting the story with a sense of wonder.

Contralto Diana Moore relished Handel's word-painting, tenderly singing of lambs and shepherds at one moment and then vividly recalling the horrors of the crucifixion the next. And like all the soloists her eye-contact with the audience was a vital part of the effect. Soprano Alexandra Kidgell also combined a beautiful voice with a sense of high drama, recounting those astonishing words of the angel to the shepherds before dancing her way through her aria of great rejoicing. Bass soloist Geoff Williams similarly held the audience in his grip, whether raging furiously, imparting mysteries or singing of how, in the fullness of time, the trumpet shall sound.

And at the beating heart of all this drama was the Harmonic Choir itself. They now sing many of the choruses from memory and this makes so much difference. They are not only minutely attentive to their conductor but also they become irresistible storytellers, singing with their eyes as well as their throats. Technically they were very assured (all those difficult runs, for instance, accomplished cleanly and consistently), balance was carefully controlled and textures kept remarkably transparent for such large forces. The sound was always exciting, whether light and agile ('For unto us a child is born') weighty and sombre ('Surely he hath borne our griefs') or just magnificent ('Hallelujah').

The Orchestra da Camera were a good match for all these well-prepared singers, both as a lively, stylish ensemble and as a group of soloists (especially their continuo player Michael Overbury and their principal trumpeter). Holding everything together, moulding performances of detail and insight, making the familiar seem new-minted, ensuring that this Messiah received a standing ovation…was conductor Richard Laing.