Come and Sing 2023
Ola Gjeilo Dark Night of the Soul
Ola Gjeilo Luminous Night of the Soul
Saturday 25th February 2023 9:30AM
Nottingham Harmonic Choir
Conductor Richard Laing
Piano Jonathan Allsopp
Booking Form (Excel File - please download and then enable editing after opening)
Booking Form (PDF Printable Version)

Born in Norway, Ola Gjeilo moved to New York in 2001 to study composition at the Juilliard School, and he continues to live and work there today. He is one of the foremost figures in the new wave of American choral composition, writing music which is instantly appealing, but which stays with the listener long after the final chord has sounded.

Dark Night of the Soul was written in 2010 and is a setting of a text by St John of the Cross (1542-1592). In writing the music Gjeilo states that he hoped to 'convey a lot of the grace and passion that is so strong and pulsating in the poem.'

Dating from 2012, Luminous Night is the sequel to Dark Night; the two were conceived as two movements of one work. As Gjeilo writes in the score, 'the essential link between the two pieces is a theme that is featured towards the end of both, in very different ways; while the end of Dark Night is lyrical and romantic, the finale of Luminous Night is exuberant and relentless.' The text is by Charles Anthony Silvestri, with the final stanza from St John of the Cross.
Approximate length of concert: Rehearsal 9.30am to 4pm, Performance 4pm to 5pm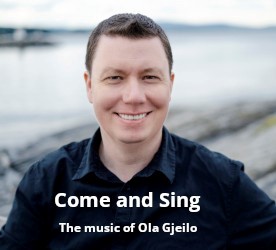 Saturday 25th February 2023 9:30AM
Venue:
The Becket School