Sea Symphony and Sea Pictures
Vaughan Williams A Sea Symphony
Elgar Sea Pictures
Saturday 18th March 2017 7:30PM
Nottingham Harmonic Choir
Conductor Richard Laing
Soprano April Fredrick
Mezzo soprano Catherine Wyn-Rogers
Bass-baritone Marcus Farnsworth
As Vaughan Williams first symphony, A Sea Symphony was an ambitiously large, exhilarating work for orchestra and chorus. It remains the best known of the many sea-related compositions written at the turn of the 20th century.

From the opening brass fanfare with the chorus line "Behold the Sea" Vaughan Williams powerful setting of Walt Whitman's poems: Leaves of Grass and Passage to India evokes the sea, its many moods and man's voyage through life and beyond.

Five poems representing the dichotomy of man's fascination and fear of the sea and its immense power and mystery provide the text for Elgar's song cycle Sea Pictures. Premiered shortly after the triumph of his Enigma Variations, Elgar's masterly orchestral textures and stunning vocal settings for contralto soloist ensured Sea Pictures immediate and continued popularity with concert audiences.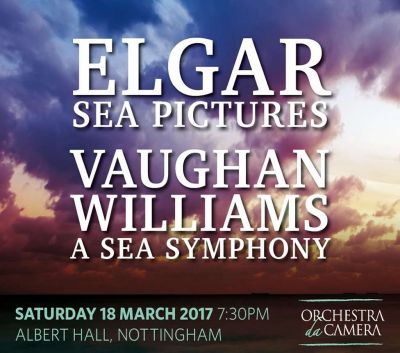 Saturday 18th March 2017 7:30PM
Venue:
Albert Hall, Nottingham
Reviews
Review by: William Ruff
Review title: A SEA SYMPHONY and SEA PICTURES, March 19, 2017
Everyone knows that a lungful of sea spray does you good. So take a close look at anyone who was in the Albert Hall on Saturday at the Harmonic Choir's performance of Vaughan Williams' Sea Symphony and you should see rosy cheeks and hear miraculously decongested nasal passages.

First impressions are vitally important in this great choral work. The opening fanfare has to seize you by the throat - and the Orchestra da Camera's brass section certainly made sure of that. And then there were the choir's explosive opening words ('Behold, the sea itself') suggesting this would be a performance in which words and music would be thrillingly combined.

That is no mean feat in a work whose weight of orchestral sound can often seem overwhelming. However, the balance between singers and instrumentalists was always carefully managed. The relatively modest size of the Orchestra da Camera was a blessing and conductor Richard Laing was clearly eager to allow Walt Whitman's words to shine through the musical texture.

The large forces mustered by the Harmonic Choir were impressively versatile, capable not only of hurling tidal waves of sound at the audience but also of crisp precision (as at the exhilarating end of the third movement), rhythmic accuracy and an ability to project a visionary sense of wonder. Soloists April Fredrick and Marcus Farnsworth had huge numbers to sing against, but their passion, energy and musical insight were never in doubt.

The five songs of Elgar's Sea Pictures formed a perfect companion piece in this maritime concert. Mezzo Catherine Wyn-Rogers was the eloquent soloist, attentive both to the music of the words as well as to the composer's ultra-precise musical directions. The poems Elgar set may be unfashionable but as songs they burst with rapture, yearning, tenderness and what it means to be human amid the wonders of nature.

Read more at http://www.nottinghampost.com/nottingham-harmonic-choir-sea-symphony-at-the-albert-hall-review/story-30213906-detail/story.html