Petite Messe Solennelle
Rossini Petite Messe Solennelle
Saturday 12th November 2016 7:30PM
Nottingham Harmonic Choir
Conductor Richard Laing
Piano Samantha Ward
Harmonium Anne Page
Soprano April Fredrick
Contralto Rhonda Browne
Tenor Charne Rochford
Bass-baritone James Oldfield
Contrary to its title, the Petite Messe Solennelle, written late in Rossini's life in 1863, is neither solemn nor small; his mass brims over with the colour and drama to be found in any of his earlier Italian operas. Although originally written for performance as a salon piece with the unusual instrumentation of two pianos and harmonium, the Mass transfers successfully to the concert hall. The appeal of melodic operatic solos and lively choruses securing its place as an iconic choral work of the 19th century.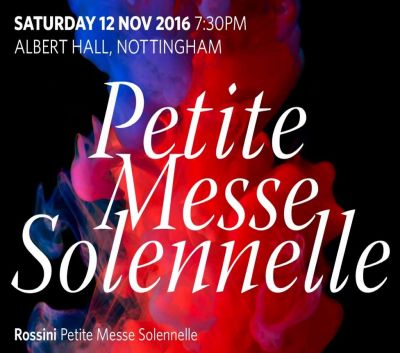 Saturday 12th November 2016 7:30PM
Venue:
Albert Hall, Nottingham
Reviews
Review by: William Ruff
Review title: Rossini Petite Messe Solennelle
For conductor Richard Laing Saturday's performance of Rossini's Petite Messe Solennelle was much more than art for art's sake.

His opening address to the audience drew attention to one particular section of the Mass: 'Whenever the enemy presses in, God's strength comes to our aid' - allowing his listeners to decide for themselves what 'the enemy' meant in the context of recent events on both sides of the Atlantic.

The opening of the Kyrie immediately demonstrated the power of music to transcend a world of troubling unpredictability and to elevate its listeners to a higher plane of consciousness. It also shone a spotlight on the skills of a conductor who knows precisely how to mould the effects he wants. The Choir's crisp and dramatic way with words is now one of their hallmarks - as is their care with phrasing and dynamics. The Kyrie quickly reached a climax, the steps by which they reached it thrillingly built.

The Cum Sancto Spiritu was another example of just how responsive a large choir can be. The music danced along with ideas passed back and forth between different voices. They managed the sudden diminuendos and crescendos with pinpoint precision, ratcheting up the energy levels and intensifying the drama.

The soloists were at one with Richard Laing's vision of the work. Soprano April Fredrick, contralto Rhonda Browne, tenor Charne Rochford and baritone James Oldfield all had strong, stylish approaches to Rossini's highly operatic solo arias whilst blending beautifully in ensemble. Here was a solo quartet who reached out to the audience with their eyes as well as their voices.

The accompaniment was provided by Samantha Ward (piano) and Anne Page (harmonium) - unusual for a Mass on this scale not to have an orchestra, but their incisive and insightful playing proved that sometimes less is more.