Messiah
Handel Messiah (complete)
Sunday 2nd December 2018 3:00PM
Nottingham Harmonic Choir
Orchestra da Camera
Conductor Richard Laing
Soprano April Fredrick
Contralto Rhonda Browne
Tenor Christopher Turner
Bass Baritone Stephan Loges
Continuo Michael Overbury
The annual performance of Messiah at the Royal Concert Hall has become an unmissable fixture in the Christmas calendar. From the jubilant "Hallelujah" chorus, to the exquisite aria "I know that my Redeemer liveth", Messiah is an evocative setting of the biblical account of the birth, life and death of Christ. Handel's mastery of composition for solo voices, choir and orchestra culminates in a work full of superb arias and thrilling choruses, well-loved by audiences for almost three centuries.

Start your Christmas season with an evening of inspirational music. Handel's magnificent oratorio Messiah tells the story of Jesus' birth, life, death and resurrection, through many narrative and explanatory extracts from the Bible. This dramatic work features several of the greatest arias and choruses ever written.

This concert comes at the start of Advent, when we are all finally becoming aware that it really isn't long until Christmas, even though the shops have been anticipating it for months. Come and have an evening to escape from the bustle and let Handel's glorious music wash over you and renew you.

Although Messiah is the work by which most people in the world know Handel, it is almost a misfit in his output. He was not generally a religious composer and was not employed as a church musician, but rather wrote operas and music for royal occasions. His oratorios appear to be simply operas with religious themes. At the time they were written in England, they were not allowed to be staged nor acted. They could only be performed in a church, not in a theatre.

Handel's operatic techniques are apparent in Messiah. The choir plays parts ranging from a vituperative mob hurling insults round the Cross to a choir of Angels singing of Jesus' birth and praising Him in Heaven.

Many of the soloists' arias are familiar and well-loved, but they make even more impact in the context of the whole work.

If you have never heard the whole of Messiah before, or have only heard versions which are heavily cut, where there is no sense of continuity, come and be prepared for a totally different, thrilling, emotional experience!
Approximate length of concert: 2hr 30mins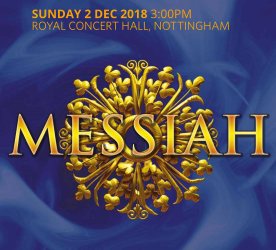 Sunday 2nd December 2018 3:00PM
Venue:
Royal Concert Hall, Nottingham
Reviews
Review by: Various from Twitter
Review title: December 2018
"Each year I manage to forget what a sublime piece of music Handel's Messiah is. Standing in the blast of the Hallelujah chorus never fails to remind me! Bravo, Brava"

"Thank you for an amazing performance this afternoon April. A lifetime of 'Messiah' concerts, but never have I seen a soprano soloist so engaged with the music, or heard such passion along with a lovely voice"