The Drivetime Concert
Tchaikovsky Prelude to Swan Lake
Copland Rodeo: Hoedown
Saint-Saëns Danse Macabre
Tchaikovsky Waltz of the Flowers from Swan Lake
Dvořák Slavonic Dance, Op. 72 No. 2
Beethoven Symphony No. 7 (finale)
Marquez Danzon No. 2
Borodin Polovtsian Dances
Thursday 28th June 2018 6:00PM
Nottingham Harmonic Choir
The Hallé
Conductor Jonathon Heyward
With the chance to join the Hallé performing one of the all-time greats of choral music: Borodin Polovtsian Dances

Films, TV, radio, adverts, even video games – classical music is everywhere, but there's no better way to experience its power than a live concert with an 80-piece orchestra giving it everything. If you've not heard a live orchestra before then the Drivetime Concert is the perfect place to start. It's an hour of fantastic music played by the Hallé Orchestra, with classic pieces from some of the world's greatest composers.

There's a friendly, fun atmosphere and the pieces are introduced from the stage by our presenter, Tom Redmond, so it's ideal for families too. The concert starts at 6pm so you'll miss the rush hour and there's plenty of time afterwards to grab a meal in town or get the kids to bed.

This year's concert is all about dance, from waltzing Tchaikovsky and Beethoven's dancing Seventh Symphony finale, to Marquez's slinky Danzon No. 2 and Copland's Yee-hah-ing Hoedown.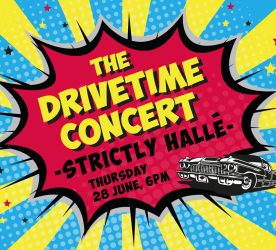 Thursday 28th June 2018 6:00PM
Venue:
Royal Concert Hall, Nottingham