CANCELLED - Musical Seascapes
Mendelssohn The Hebrides
MacCunn The Wreck of the Hesperus
Britten Four Sea Interludes from Peter Grimes
Howells Sir Patrick Spens
Stanford Songs of the Fleet
Saturday 21st March 2020 7:30PM
Nottingham Harmonic Choir
Orchestra da Camera
Conductor Richard Laing
Baritone Jon Stainsby
Organ Simon Hogan
With regret, this concert has been cancelled due to the corona virus situation.
We hope to be able to present this music to our supporters and public at a later date.

Our island nation has always been fascinated by the sea, and our greatest composers have been irresistibly drawn to it. Here we present Stanford's rollicking nautical entertainment alongside Britten's atmospheric musical pictures, a dramatic cantata by Herbert Howells and an extraordinary melodrama by the great Romantic Hamish MacCunn, (probably never heard in Nottingham before) all prefaced by the anglophile Mendelssohn's wonderfully vivid picture of Fingal's Cave. Bring your waterproofs!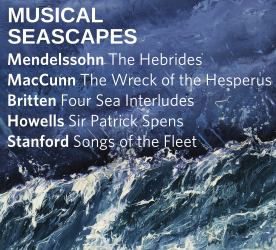 Saturday 21st March 2020 7:30PM
Venue:
Albert Hall, Nottingham